The DPAM[AR] project represents an intriguing exploration of the convergence between fine art, emerging technology, and cultural education. 
This project is a self-guided, augmented reality journey through DePaul's Lincoln Park campus, unveiling hidden gems from the DPAM's collection and fostering cultural education.
Designed and developed by Tori, Reece, and Cate.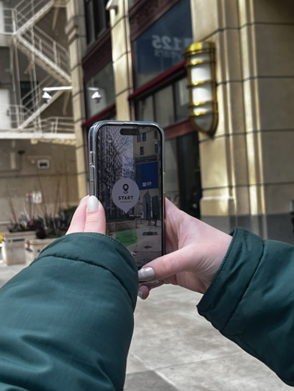 This initiative invites users to embark on a self-guided journey through an augmented reality (AR) exhibition situated across DePaul's Lincoln Park campus. By utilizing AR, the project showcases off-view artworks from the DePaul Art Museum's esteemed permanent collection, emphasizing works created by artists from underrepresented communities. The experience begins with a simple QR code, which users scan to unlock the 'ARt' exhibit. The project aspires to deepen users' appreciation for the significance of these artists' contributions, the issues they seek to raise awareness about, and the role that art plays in cultural education and highlighting the shared triumphs and challenges faced by these communities.
The adventure extends beyond the 'ARt' exhibit. Upon completing the AR walkthrough, users are directed to the DePaul Art Museum, where they can continue exploring the world of art and culture through new and rotating exhibits and a myriad of captivating artworks. The project is designed to offer an unparalleled journey through the realms of art and technology, promoting enhanced cultural education with a tool capable of engaging users across all age groups. By employing technology to reveal the stories and history behind the artworks and their creators, the project celebrates the universal educational and captivating power of art.
The primary objective of this project is to raise awareness about the DePaul Art Museum, its collection, exhibits, and its mission "to connect people through art and ideas that explore the vast range of human experience and expression" by emphasizing inclusivity and representation.
To address the challenge of limited knowledge and misconceptions surrounding the DePaul Art Museum and its offerings, the team proposes crafting an immersive and captivating experience that leads visitors directly to the museum. This solution involves leveraging cutting-edge augmented reality (AR) technology to showcase the museum's impressive collection to community members through an innovative 'ARt' exhibit. This approach aims to create awareness and highlight DPAM's mission to the target audience, ultimately resulting in increased foot traffic and enhanced understanding of the museum.