About the Game
Designed by Lien Tran and Lynn Baus
The Big Build Up is a game about navigating tricky relationships. The first full version of the game was created from September to October 2021 and was selected as a finalist in the 2021 Jennifer Ann's Group (JAG) Unplugged game design challenge. Thank you JAG for your support and to the judges for playing and reviewing the games.
Many of the finalist games were featured during the Life.Love "Gaming Against Violence: Unplugged" session at 2021 PAX Unplugged when The Big Build Up was announced as the winning game on the challenge website. Catch the panel via PAX Twitch.

Game Description
Build self-esteem in The Big Build Up, a cooperative two-player game in which players weigh in and learn the warning signs of dangerous relationships. Players also explore ways to create a more stable situation before someone's confidence and well-being comes tumbling down. At any point in the game, one person is the star of the game and roleplays as someone navigating romantic relationships while the other player roleplays as their well-intentioned and caring friend, who can offer support or share concern throughout the game.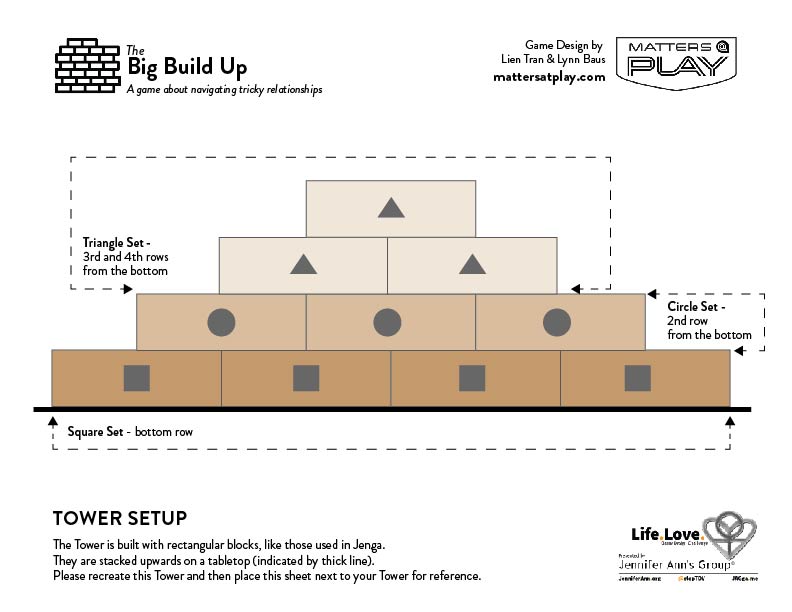 Who is the game's audience? How can it be used?
The primary audience for the game intervention is youth ages 13-16 and may be used in an education setting, such as a health class or an event run through a school library or after-school program. This game is designed for and best used as a facilitated learning experience as the after-game debrief is essential to reinforcing connections between in-game scenarios, player choices, and game outcome.
Download for free the printable game components here. Ideally these can be printed in color. That said, they are designed to work even if printed in black and white.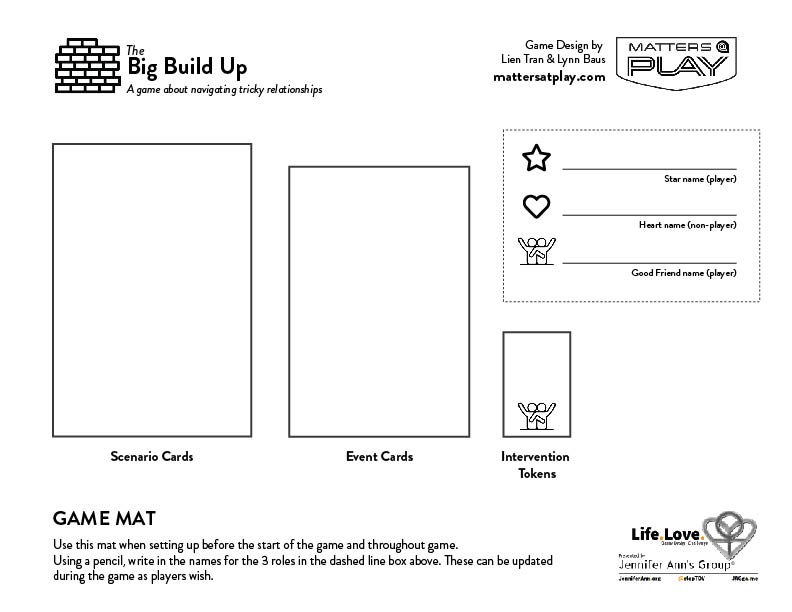 Get Facilitation Materials
Check back soon for facilitation resources including a Facilitation Slide Deck.
Acknowledgements
For the October 2021 playable version of the game, several icons were used from The Noun Project.
Get In Touch
If If you are an educator or community partner working with young teenagers and have a suggested context for using the game, please contact us@mattersatplay.com. We'd be happy to talk through how you might use the game for your specific use case and any interest in developing additional content.