Matters at Play collaborated with several subject matter stakeholders on the creation of Poor Not Guilty: Fines and Fees Challenge, including the National Homelessness Law Center (NHLC). The challenge is now available on the NHLC's website along with a suggested Street Law lesson plan.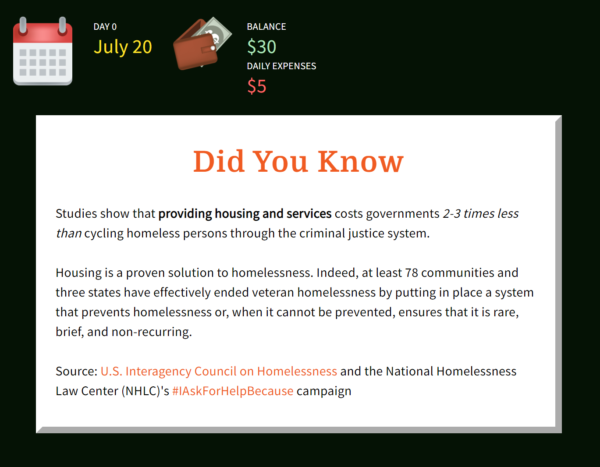 The Fines & Fees Challenge is an interactive educational tool based on a series of real-life experiences that highlight how fines and fees for petty offenses create impossible situations for those experiencing poverty and/or homelessness. Each scenario asks the player to make a series of choices in response to an inciting circumstance with the goal of escaping the cycle that financial punishment systems trap them in. To varying degrees throughout the U.S., cities and states impose heavy fines for minor offenses at every stage of the criminal justice system. Millions of Americans get trapped in a cycle of punishment simply because they can't afford to pay these fines and fees. Without any means of escape from a system designed to punish poverty, many Americans lose their jobs, homes, and even their children. Almost every state has laws that punish and fine people experiencing homelessness for engaging in necessary activities, such as sleeping or sitting in public. These types of policies criminalize homelessness and fail to address its root causes, like the lack of access to affordable and adequate housing.
About the NHLC
The National Homelessness Law Center is a 501(c)3 nonprofit organization based in Washington, D.C., and seeks to serve as the legal arm of the national movement to end and prevent homelessness. We believe that the human rights to adequate housing, healthcare, food, and education lie at the heart of human dignity and we envision a world where no one has to go without the basics of human survival.
For more on the NHLC, please visit http://homelessnesslaw.org